Read on for advice about travelling around within Kumamoto City, Kumamoto Prefecture and Central Kyushu
Kumamoto City Orientation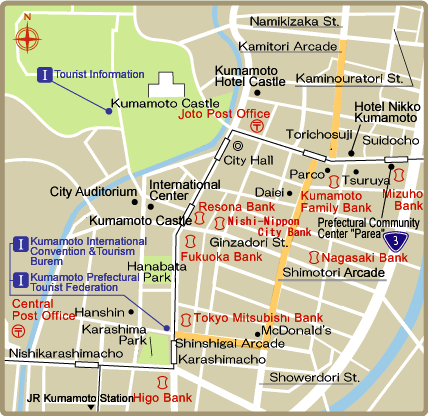 The city center is compact and  simple to navigate your way around, the downtown area is based around the three covered shopping streets called Shimotori, Kamitori, and Sunroad Shinshigai – shown in yellow on map, with many department stores, shops, hotels, bars and restaurants. Here you can also find The Kumamoto Kotsu Center which is the city's main bus station, located just behind the Hanshin Department Store. Kumamoto Castle dominates the skyline looking down upon the city and within easy walking distance of the downtown area. Suizenji Park, Ezu Lake and Kumamoto Zoo and Botanical Gardens lie several km to the east easily reachable by city bus or streetcar.
Local Trains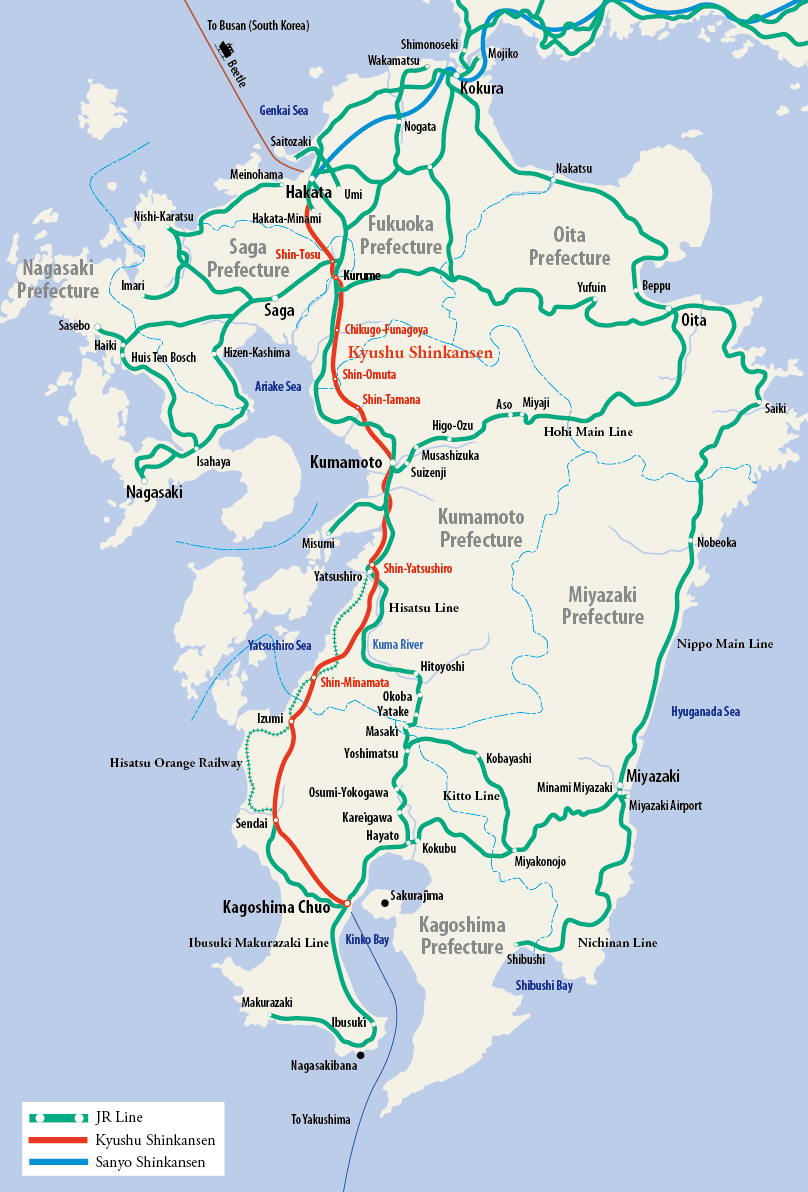 The city's main train station, 熊本駅 Kumamoto Station, is located about two kilometers southwest of the city center, this is where the shinkansen will stop. Local trains from Fukuoka also stop at 上熊本駅 Kami-Kumamoto Station, one station north of Kumamoto Station. Both stations are about a 10 minute streetcar or bus ride from the city center however public transort services run more frequently from the main Kumamoto Station.
If you are travelling around the prefecture Aso, Minami Aso, Hitoyoshi, Yatsushiro, Misumi, Tamana, Oita, Yufuin and Beppu are all easily accessible by train. Click here to find fares and timetables.
The JR Hohi Line, which connects Kumamoto with Aso and Beppu, can be useful to access eastern parts of Kumamoto City, including Suizenji Park.
Streetcar
The easiest way to get around Kumamoto City is by street car. There are two tram lines running through the city. Trams cost a flat 170 yen per ride and 90 yen for children of school age (the map below has the old prices on) , they provide convenient access from Kumamoto Station and Kami-Kumamoto Station to the city center and other tourist attractions like Suizenji Park, Kumamoto Zoo and Botanical Gardens and Ezu Lake.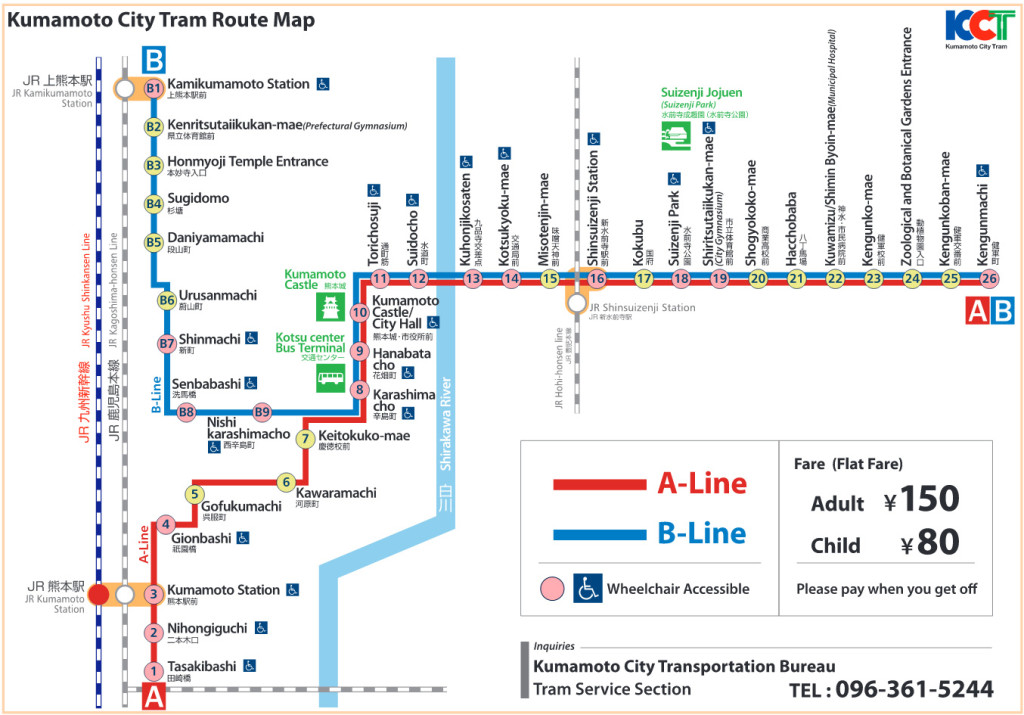 If you plan on taking public transportation within the city by bus or street car at least four times in 1 day, you can save money by purchasing a 1-day pass for 500 Yen or a 2 day pass for 800 yen, (half price for school age children) which allows unlimited travel on streetcars and all city buses though unfortunately, not the Kumamoto Castle Loop Bus. It includes a 20% discount to six sights, including Kumamoto Castle. You can purchase the pass from the train station or Kotsu Center.
Bus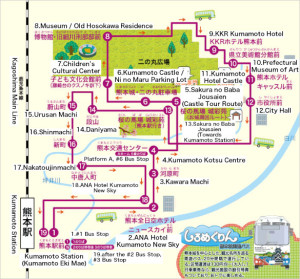 A special sightseeing bus service runs from Kumamoto Station around the castle area of the city, the Shiromegurin Bus aka The Castle Loop Bus runs every 30 mins between 9:00 and 17:00 and costs 130 yen for adults and 70 yen for school age children. A one day pass is available for 300 yen, 150 yen for children. The bus route gives easy access to Kumamoto Castle, Sakuranobaba Jyosaien, Gyobutei, The Prefectural Traditional Crafts Center, The Prefectural Art Museum and Ninomaru Koen – the large park behind the castle.
If you want to travel out of the city to places without train access such as Yamaga, Kikuchi, Amakusa, Kurokawa, Kuju and Takachiho then your options are either to take a private tour or use the bus. Click on the links above to find out about more information about each place and how you can get there by public transport. Most city bus and highway bus lines terminate at Kumamoto Kotsu Center in the city center. A one-day pass for unlimited use of trams and city buses in central Kumamoto is available for 500 yen and includes discounts on entrance to a variety of attractions.
Kumamoto Airport is located about 20 kilometers outside of central Kumamoto. It can be reached by airport bus in about 40 minutes from the Kotsu Center (730 yen one way) or about 50 minutes from Kumamoto Station (800 yen).
Bicycle
If the weather is good cycling is an excellent way to explore the city and beyond, you can reach Suizenji Park from the city center within 30 minutes by just following the tram street. Cycling in Japan is very safe, you are permitted to ride on the pavements though pedestrians have right of way. In the covered shopping arcades you must push your bike.
There are several designated cycle lanes around the city and if you fancy getting out of the city a 34 km cycle route which runs north all the way to Yamaga –  It starts on the Isseri river behind Kumamoto Castle and follows the river north behind the Kamikumamoto Station and continues to Ueki Station from where it follows a disused rail track across the plains to the Yamaga City Cycle Terminal.
The Kumamoto International Center has bicycles for rent, there are currently two electric power assisted bicycles – useful for exploring the hillier castle area or longer distances, and ten regular (gearless) bicycles available.

Rental Fees:
Regular Bicycles: Up to 6 hours – 300 yen      Over 6 hours to one day – 500 yen**
Electric power-assisted bicycles: Up to 6 hours – 500 yen     Over 6 hours to one day – 700 yen***
Rental fees are payable in advance.
For day rentals bicycles must be returned by 21:30 (by 17:00 on second and fourth Mondays of the month).
**  It is possible to rent regular bicycles for a maximum of 7 days in a row.
***Electric power-assisted bicycles must be returned on the same day of rental.
For more details, please contact the International Center tel: 096-359-2020.