Yamaga
Background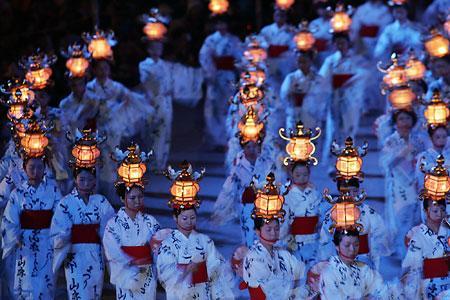 The sleepy town of Yamaga in the North of Kumamoto was once a bustling and vibrant settlement due to its prime location on the old Buzen Kaido,  the main route that ran between northern and southern  Kyushu. Yamaga was also wealthy  due to its rich agricultural lands formed by the Kikuchi River plain. Yamaga rice was highly valued for its quality and taste.The land of the Kikuchi valley has been settled since ancient times, Japan's largest collection of Kofun burial mounds can be found here. The town is also famed for its hotsprings favoured by the Kumamoto Lords and visited by the revered swordsman Miyamoto Musashi. The traditional Kabuki theatre 'Yachiyoza' built by local merchants over 100 years ago still attracts large audiences.
Things to see and do
Modern day Yamaga may at first glance seems like any other small country town but in its heart and spirit tradition runs strong. This is symbolised by its stunning and unique lantern festival which takes place in mid August.  The beautifully restored 1910 Yachiyoza theatre is the town's centerpiece. The old Bunko Kaidan street is  also worth strolling around with several interesting oldfashioned gift and antique shops, cafes and restaurants.
The Yamaga Lantern museum situated in the old Meiji era bank is also worth visiting particularly to watch the paper craftsmen at work fashioning intricate paper lanterns and architectural models in an artform unique to the area. The famous Yamaga onsens, favourites of the Kumamoto Lords, are also nearby.
There's also an easy cycling trail along the riverside and into the lush green countryside where you can see the ancient Kofun burial mounds that are abundant in this area. You could spend the whole day in Yamaga or combine it with a trip to Kikuchi Valley Gorge or Kikuchi Castle.
Take a look at Explore Kumamoto's Yamaga and Kikuchi One Day Tour
Below you will find activities and sights you can explore in and around Yamaga. Click on the picture links to find out more. Then why not plan your own custom made guided or self-guided tour and contact Explore Kumamoto for a quote.