Amakusa is a chain of sub-tropical islands stretching out to the west from the coast of Kumamoto prefecture into the Ariake Sea. The area belongs to the Amakusa Unzen National Park, an area covering over 120 islands situated in the seas between Nagasaki and Kumamoto. Though connected to the mainland by the Uto Peninsula and a string of bridges Amakusa doesn't get the attention it deserves, this proved fortunate in the past becoming a secret hideout for Japan's forbidden Christians. Amakusa is still a rural backwater mainly because of the travel times and infrequent public transport. Amakusa is unspoilt, and very peaceful with some beautiful beaches, lovely sunset views and wonderful seafood – a place to really get away from it all.
The Amakusa isles are connected by 5 bridges offering wonderful views of the jagged shoreline and sandy beaches, nicknamed the Pearl Line in Japanese. Amakusa was once a stronghold for Christianity and churches still remain dotted around the islands.
Getting there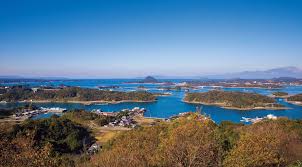 By Air: Check out the Amakusa Airlines website to find flight schedules from Osaka, Fukuoka and Kumamoto Airports.
By Train: Take the train from Kumamaoto Station to Misumi Port, around 50 minutes. From there you can take the Amakusa Takarajima Ferry line to the main town of Hondo port, it takes around 1 hour, the ferry timetable is co-ordinated with the train times.
By Ferry: There are a variety of ferry routes connecting Amakusa with kumamoto,Nagasaki and kagoshima prefectures.  Amakusa has a wonderful travel information site in English called Amakusa Treasure Island, click on the link to find out detailed information about the ferry services.
By Car: The easiest way if you want to take your time and tour the whole island chain. The main route (Route 57) from Kumamoto into Amakusa can get very busy especially in peak season and at weekends. But once you are in the Amakusa islands particularly in the most southerly one you'll find the roads very quiet and peaceful.
Se below for sights and activities in the Amakusa area, also check out Amakusa's very good English language tourist information site to find out more about what you can do.
Explore Kumamoto can provide customised private tours of the Amakusa area, contact us for details.