The Samurai Swords Tour is a unique day out and is guaranteed to be one of the most memorable experiences of your trip to Japan. A must for anyone interested in the Samurai, Japanese Swords or Musashi Miyamoto, Japan's greatest swordsman.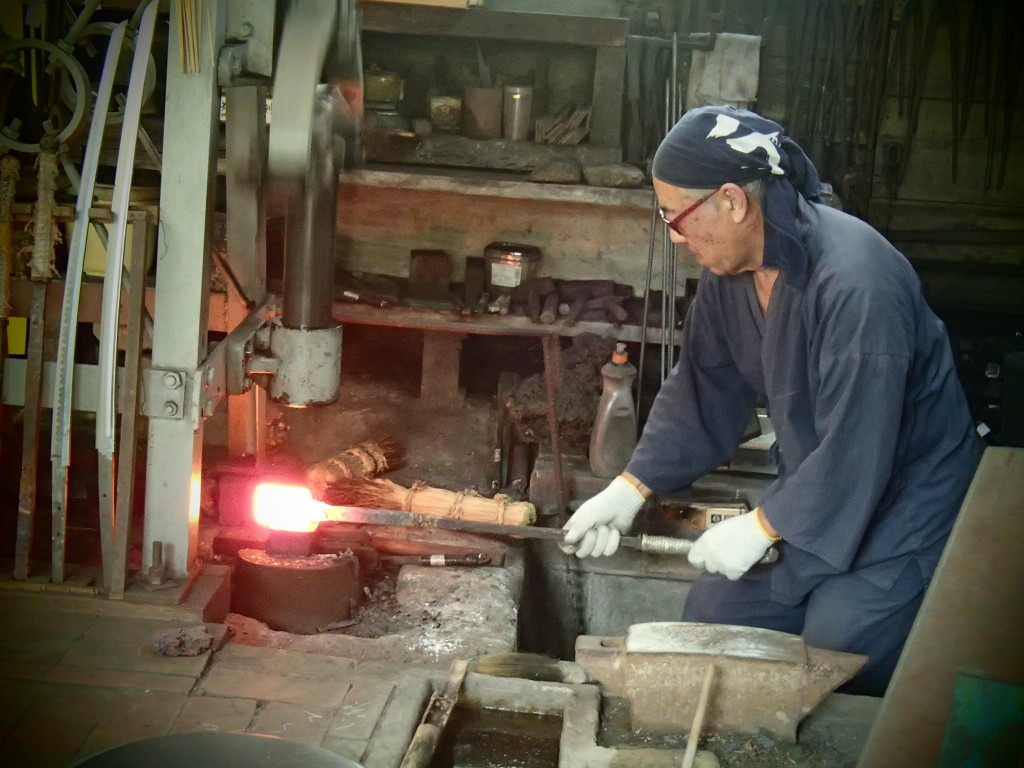 Japanese swords are famous worldwide for their unique properties of  strength, flexibility and the keenness of their blades.  The techniques of forging a katana were perfected a thousand years ago and the best Japanese swords are said to last a thousand years and can cut a man's torso in half with a single blow.
Though the days of Samurai have gone there still exist some traditional Japanese swordsmiths in Japan producing collector's items worth thousands of dollars. Kumamoto with its long samurai heritage has several of these dedicated craftsmen. However, chances to meet and witness a master swordsmith at work are few and far between.
Therefore a visit to the award winning swordsmith Matsunaga Genrokuro in the city of Arao in the North of Kumamoto prefecture will be a truly memorable addition to your Kyushu trip.
It was a great day. Everyone has been thrilled about Mr. Matsunaga and the possibility to try the katana. You are well educated in the subject. For a fan like me the grave, cave and Mr. Matsunaga makes an unforgettable day.  We will give you warmhearted recommendations :))     Matti Oct 2015

I'd like to thank you again for that day. The tour you offered was awesome – so interesting and unique that it was (especially for my father!) the highlight of our trip. Especially the combination of meeting Hans and Mr Matsunaga was great and you did a wonderful job being our tour guide and translator!                                                                                                                      Nina Nov 2016
This tour can be taken as a half day experience or made into a full day tour by either visiting other wonderful locations connected closely to Japan's greatest swordsman Musashi Miyamoto and the samurai warriors of Kumamoto; the Ryugandou Cave and Unzenji temple and the atmospheric monuments and teahouses of Tatsuda Nature Park or  wonderful Suizenji Gardens or for anyone particularly interested in Japanese craftsmanship we can also visit Higo Minka Mura home of several craftsmen including another highly skilled craftsman (with excellent English) who makes and restores the decorative parts of the samurai sword:  the saya (sheath) and tsuka (handle).
Tour Duration:
Swordsmith Visit only: aprox 3  hours
Pick up:  Arao Station (45 mins from Kumamoto Station)
Fee: 6,000 Yen *pp (*there is a supplementary fee for groups of 1 or 2 people)
Full Day Tour: 8 – 9 hours
Pick up: Kumamoto City and Arao Station drop off (however, this can be flexible according to the itinerary you choose)
Fee: 9,000 Yen *pp  (*there is a supplementary fee for groups of 1 or 2 people)
*The supplementary fee for small groups allows us to run tours even for 1 or 2 people, please contact us for details.
Tour Includes:
Entrance fees to the Reigando Cave and temple, entrance fees to Tatsuda Nature Park or Suizenji Gardens, Swordsmith visit fee.
Family discount: Children up to 16 go for half price, children under 5 are free.
Tour Exclusions:
Lunch is not included.
However, please let us know of any dietary preferences for lunch so we can plan what and where to eat.
Maximum Number of People: 9
Tour Highlights:
Visit Matsunaga Genroku sensei – a master swordsmith in the city of Arao, watch and learn how a traditional samurai sword is made from iron smelting to the finished blade. You will also have the chance to try hammering out a piece of red hot steel. You will then watch a display of 'tameshigiri' cutting techniques by Mr Matsunaga's students. After which, if you are up for the challenge, you can try tameshigiri yourself, the aim is to cut cleanly through a tightly rolled tatami mat.
Mr Matsunaga welcomes people from all around the world into his workshop,  your guide will act as translator and he is very happy to answer all your questions. He may also invite you into his house to see his collection of antique weapons and 400 year old Japanese samurai armour.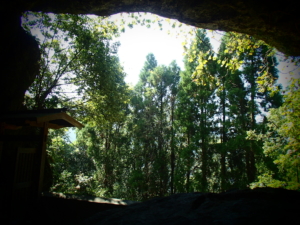 Visit the mystical Reigando Cave and Unganzenji a Zen temple famed for its 500 buddhas. The cave is where Japan's greatest ever swordsman Musashi Miyamoto meditated and wrote the classic book on the samurai art of war 'Go Rin no Sho' The Book of Five Rings.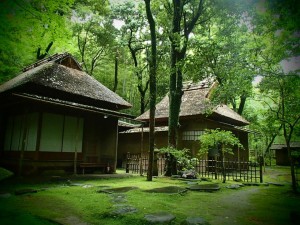 Tatsuda Nature Park – these beautiful gardens near Kumamoto University are the resting place of the ancient samurai Lords of Kumamoto. In a fairytale grove in the center of the gardens there are two tea houses which are open to visitors by appointment only. Here you can learn about the traditional Higo tea ceremony and witness the gentler side of the Japanese warrior class.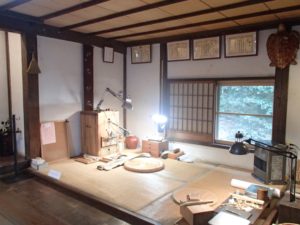 Or visit Koga Bijutsu to meet a skilled craftsmen (with excellent English) who makes and restores the decorative parts of the samurai sword:  the saya (sheath) and tsuka (handle). In Higo Minka Mura you can also see a Noh mask maker, a Japanese flute maker, a potter, glass blower and other craftspeople at work.  Look inside an ancient burial mound and  see a variety of traditional architecture.
Customise your tour, all the places below can be combined with a visit to the Samurai Sword Maker
Contact Explore Kumamoto now to book your samurai swords tour or to ask a question.