Mount Kuju and Kuju Flower Park Day Trip
Why take a tour? 
A visit to Mount Kuju and the Kuju Flower Park are high on the list of things to do for anyone visiting northern Kyushu unfortunately there is no easy way to get there by public transport. This day trip which can be booked between mid March to late November is a great solution. Central Kyushu is blessed with fantastic volcanic scenery and Mount Kuju is famed as Kyushu island's highest mountain range, home to the largest pedestrian suspension bridge in Japan and the Kuju Flower Park, a must see for flower and photography lovers. The Kuju Flower Park offers seasonal displays of over 3 million blooms to view against the stunning backdrop of the Kuju and Aso mountains. This day trip also offers wonderful views of Mount Aso, Japan's largest and most active volcano set in the midst of one of the world's largest inabited caldera.
Pick Up and Drop Off Point: The tour begins and ends from Higo Ozu Station   a short train ride from Kumamoto City. A customised pick up can be arranged from Aso or Kurokawa Onsen please contact us to find out the extra pick up charges.
Tour Availability : Monday to Friday
Tour Duration: 1 Day – 09:00 – 17:30 (8.5 hours)
Maximum Number of People: 9
Price: From 8000 Yen per person plus transport* Price includes entrance to the Kokonoe Yume Suspension Bridge and Kuju Flower Park.
*Transport costs will vary according to the group size, please contact us for details.
Family discounts available. (Please contact us with your children's ages to find out more)
Activity level: Gentle, the tour involves some walking but mostly on gentle slopes or flat ground
A percentage of all tour profits will go towards helping the Kumamoto and Aso regions recover from the Kumamoto Earthquakes.
Kuju Sights and Flower Park Day Trip Model Itinerary:
This itinerary can be customised to fit your interests, for example if you are not a fan of high places the Kokonoe Suspension Bridge can be missed, if you'd like to visit an onsen that can also be arranged. For example if you are only interested in the Flower Park, or do not want to visit the Flower Park, you could combine the other sights with a half day trip to Kurokawa Onsen.
(Click on the titles in red to find more information about each location.)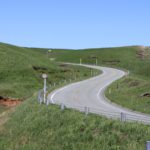 The day starts with a wonderful drive around the northern edge of the Aso caldera on the Milk Road, one of Kyushu's most beautiful roads offering panoramic views of the caldera and Mount Aso.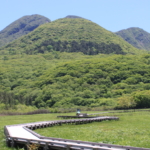 We drive up into the Kuju Mountains to first visit the high altitude Chojabaru Plateau, here we can take a relaxing 30 to 50 minute walk over the Tadewara Marsh, a Ramsar protected unique wetland habitat and through the woodlands at the base of the mountains with views, and sometimes smells, of the gently steaming live volcano of Mt. Io.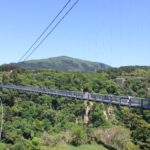 We then head a little further through the mountain range to visit the Kokonoe Yume Suspension Bridge, the largest pedestrian suspension bridge in Japan crossing a deep river valley and offering  views of one of Japan's top waterfalls and wonderful spring and autumn foliage and refreshing breezes in the summer time.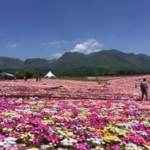 After lunch we head eastwards to visit the Kuju Flower Park, which offers stunning seasonal displays of over 500 varieties of flowers against the backdrop of Kuju and Aso mountain views. If flowers are not your thing, nearby there is the Kuju Winery or The Guernsey Farm and a horse riding stables.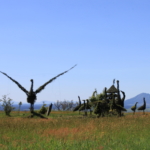 Leaving the flower park we start our return trip taking the famous Yamanami Highway (Route 11) making a short stop off at a quirky local market which specialises in local fruit and vegetables and has some very quirky topiary and a variety of small animals including a herd of petting deer.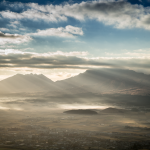 If the weather is good we will make a stop at the famous  Daikanbo view point – the highest point on the Northern caldera wall offering wonderful views of the central Aso peaks and panoramic views of the whole caldera. The central mountains viewed from this point are said to form a silhouette of a sleeping buddha, the live volcano of Nakadake giving him a gently smoking belly button.
To make a booking or inquire about customising your tour contact Explore Kumamoto now.