Kurokawa Onsen
If you are seeking relaxation a visit to Kurokawa Onsen will leave you so relaxed you may never want to leave. This small village tucked away in the hills of Oguni north of Aso is famed for its many and beautiful 'lotenburo',- outside hot spring baths. Find out how to get to Kurokawa Onsen here.
The history of the village stretches back over 300 years to when the Daimyos (feudal lords) used the place as a rest stop and the onsen to recuperate when travelling between Hita and Taketa in Oita. Over the last thirty years the village has expanded and there are now around 25 different outdoor onsens to choose from, however the village has resisted becoming over commercialised; there are no large or modern hotels and you won't find any neon signs, pachinko parlours or convenience stores. Instead the village has a wonderfully timeless feel,  with onsen hopping being the main activity.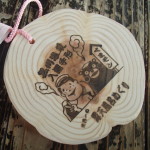 Kurokawa Onsen Association has created a unique onsen token system which allows visitors to enjoy a variety of baths outside their ryokan. The pass is a distinctive round of local cedar and you'll quickly notice many visitors strolling around the village dressed in their hotel yukata with their pass around their necks. Holders of the pass can visit up to 3 different outside onsens for the price of 1300 Yen. You can also access individual onsens for around 600 Yen.
Kurokawa is an incredibly popular getaway for the Japanese, if you are planning on staying a night then book the earlier the better. For bookings at peak seasons such as New Year and Golden Week be prepared to book up to a year in advance. Please contact Explore Kumamoto if you need help with booking accommodation.
Travel Advice:
Schedule a visit for a weekday if possible.
Try taking baths in the daytime before 3pm as that's when many of the tour groups will arrive – on a weekday you may get the onsen all to yourself.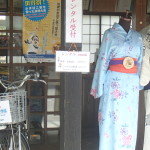 Get into the onsen hopping feel by renting a yukata set for 1000 Yen from by the information center.
The countryside around Kurokawa Village is beautiful, why not rent a bicycle for 500 Yen after your bath.
There are also several hiking paths to enjoy from the village into the surroundng countryside.
Check the colour of the curtains over the onsen entrance – red for women's bath and blue for men – access to the baths is usually changed over the course of the day so that visitors can experience all the baths.
There are several mixed sex onsens – if you are feeling brave! There are also many family onsens, these are smaller baths that you book out for your  exclusive use – they will be more expensive (around 1000 Yen) and you will have a time slot of usually one hour.
If you can't stay the night, think about taking a day trip and then staying in the Aso area or heading back to Kumamoto for the night. See Explore Kumamoto's great value Kurokawa Onsen day trip here or combine a trip to Kurokawa with a tour to Kikuchi Valley and Nabegataki Falls.
Another option is to take a tour of Aso finishing with a drop off at Kurokawa Onsen.
Below are activities and sights you can explore in and around the Kurokawa area. Click on the picture links to find out more. Then why not plan your own custom made guided or self-guided tour and contact Explore Kumamoto for a quote.