Kurokawa Onsen Day Trip – for hot spring lovers everywhere!
A tour through the beautiful countryside and natural sights of northern Kumamoto to the famously secluded village of Kurokawa Onsen, a charmingly traditional hot spring retreat hidden away in the valleys of Oguni.
Why take a tour? 
Because you don't have to book an expensive ryokan to enjoy one or more of Kurokawa's beautiful hot springs and you can combine a hot spring bath with a visit to some of the top sights of northern Kumamoto! 
With a personalised Kurokawa Onsen Day Trip you will be able to visit a maximum of 2 hot spring baths and also have time to visit the wonderful Daikanbo view and Nabegataki Falls, and see some of the sights of the Kurokawa area. The journey to Kurokawa also takes you over the northern Aso caldera, with wonderful views on the way.
If one bath is enough there is plenty of time to explore some more, you could go for a hike in the surrounding countryside or even venture over to Kuju, Kikuchi Valley or Aso to explore the sights there.
The tour can also be customised to include extra sights if you are staying the night in Kurokawa or returning from Kurokawa to the Kumamoto region
Tour Highlights:
Kurokawa Onsen Village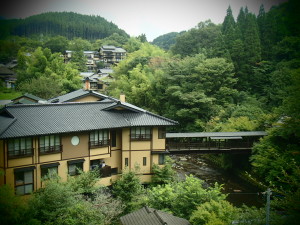 The famous Kurokawa Onsen is one of Japan's top onsen resorts, famed for its charmingly traditional and isolated setting in a lush green valley hidden away in the hillsides of Minami Oguni. Its history goes back over 300 years when Kurokawa became a convenient rest stop for the Kumamoto Lords. The baths were rumoured to have special healing powers.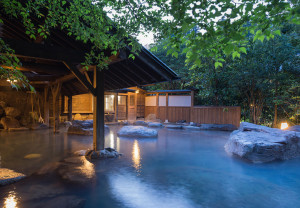 Nowadays Kurokawa's claim to fame is down to its many traditional ryokans and the large number of 'lotenburo' outdoor hot springs it hosts, each in its own uniquely beautiful natural setting. There are 24 onsens to choose from each boasting wonderful outside baths in a range of settings, offering different kind of baths and a variety of waters  each with its own distinct health benefits. We usually visit Kurokawa onsen in the morning when the baths are at their quietest, so you may even get a hotspring all to yourself! Private onsens are also available.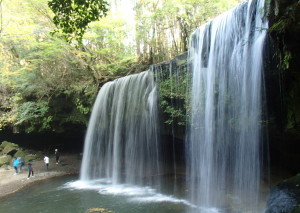 Nabegataki Falls
A local Oguni town secret until recently, the Nabegataki falls are becoming increasingly popular and enjoy a deserved reputation as a natural 'power spot'. The water falls in a 20 m wide sheet which you can walk behind all the way to the far river bank. This rare geological feature is due to its formation during the huge eruptions of Mount Aso over 90,000 years ago.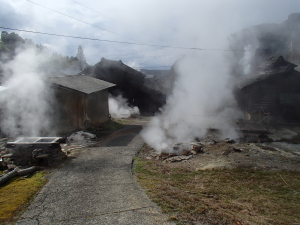 Waita – explore a steam powered village
For lunch how about some onsen steamed delicacies and then a walk around the steamiest little village you have ever seen. Take a fascinating look at how the locals have learnt to live with and benefit from having a constant source of geo thermal power literally under their feet.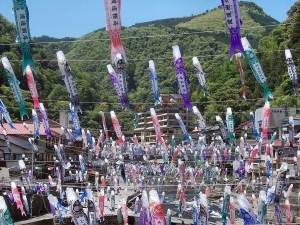 See the carp flying at Tsuetate
From April through to the first week in May you also have the option to visit the nearby onsen ttown of Tsuetate where over 3500 carp streamers fly above the river.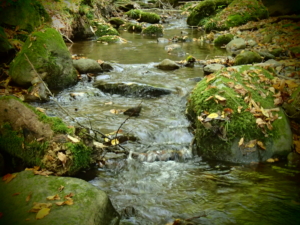 Sparrow Hell and Seiryu Forest Path
If the weather is good we can enjoy a walk past the Sparrow Hell – an unusual  cold water sulphur spring through the lovely primeval forest of Seiryu No Mori to a view point that on a clear day  gives you a panoramic view of Mount Aso and the Kuju Mountains. And then for the adventurous a couple of mystery spots ….
So many baths to choose from you could even try one in a cave….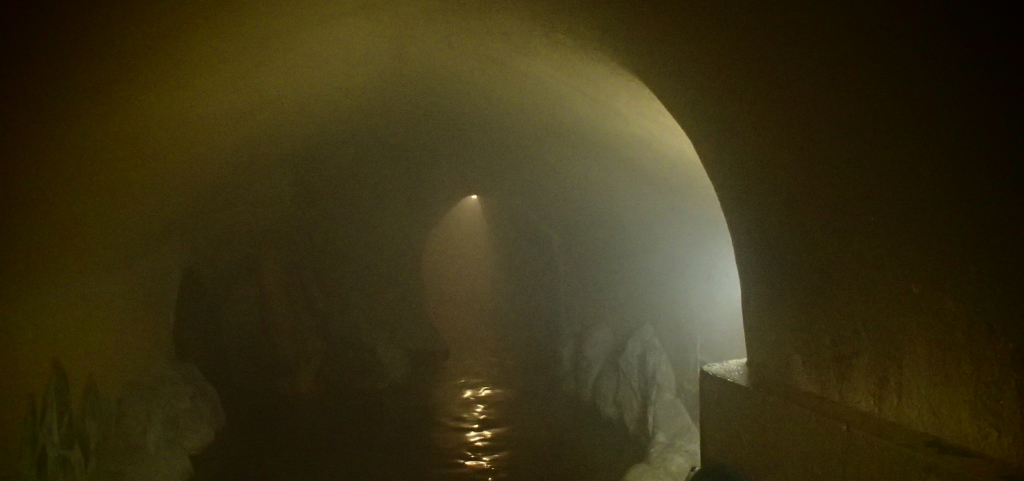 Pick Up and Drop Off Point: The tour begins and ends from Higo Ozu Station with a pick up at 08:51 and drop off at 17:30. Or your requested pick up / drop off spot in Aso or Kurokawa.
Kyushu Onsen Day Trip Tour Duration: 1 Day ( 8.5 hours)
Maximum Number of People: 9
Price: From 6,000 Yen per person plus transport* (this is for a Higo Ozu pick up with entrance to one hot spring and Nabegataki Falls included).
*Transport costs are shared between the no. of people on the tour, this allows us to run tours even for small numbers of people like single travellers, please contact us for details.
Family discounts available. (Please contact us with your children's ages to find out more)
This tour is very customisable, just contact us and tell us where you would like to go!
See a taster of Kurokawa Onsen below: