Kurokawa Onsen and Aso Day Trip
Why take a tour? 
Both Kurokawa and Aso are on many peoples list of places to visit in Kyushu, but fitting them both into an already packed itinerary can be a problem. The solution is to do both in one day, yes, it can be done!  With a personalised Kurokawa Onsen and Aso Day Trip your guide will drive you to Kurokawa where you can enjoy a wonderful outdoor hot spring bath, and take a look around the charming onsen village before heading to Aso to view its main sights.
Pick Up and Drop Off Point: The tour begins and ends from Higo Ozu Station (this is very easy to get to from Kumamoto City and takes around 30 minutes)
Tour Duration: 1 Day ( 9 – 10 hours)
Maximum Number of People: 6
Price: From 9,000 Yen per person (this will include entrance to one of Kurokawa's onsen baths, if you would prefer a private bath please tell us at the time of booking – it will be a little more expensive)
Family discounts available. (Please contact us with your childrens ages to find out more)
Tour Special Feature:
Kurokawa has a wonderful but bewildering variety of outdoor hotsprings to choose from with different settings, features, views, sizes, water quality, mixed, single sex or private ….you get the picture –  so choosing which onsen to visit can be difficult. If you can't decide we are happy to recommend the best onsen to suit you.
Travelling by car is THE best way to appreciate Aso, as the stunning landscape and views are the main attraction, this is your personalised tour therefore, if you suddenly want to stop and take a photo along the way you just have to say. Though we can't see all of Aso in an afternoon you can get a good taster of the place, before the tour we will discuss which places you really want to see and plan our Aso section of the tour around your requests.
Kurokawa Onsen and Aso Model Itinerary:
(Click on the titles in red to find more information about each location.)
Pick up: Higo Ozu Station at 09:06 (Higo Ozu is around a one hour drive from Kurokawa and 30 minutes from Aso)
We head to Kurokawa Onsen – if the weather is good we can make a brief stop at the Laputa Road view point on the way.
We will arrive at Kurokawa before 10:30 – tour the village and take an onsen of your choice, we can then either have lunch in Kurokawa or leave Kurokawa and head back to Aso.
Depending on your interests and the time remaining we will visit the following places we will aim to arrive back at Higo Ozu Station between 17:30 and 18:00: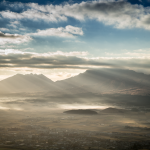 Daikanbo – wonderful views from the caldera edge of the central Aso peaks and panoramic views of the whole caldera.
OR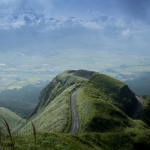 Laputa Road – Fans of Miyazaki Hayao's animation will be aware of his film about a mystical island which floats in the sky. This beautiful winding road (impossible to reach by public transport) leads off the caldera edge, appearing to float above the caldera below.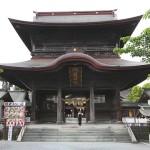 Aso Shrine and Town Walkabout – one of the oldest shrines in Japan and the focal point of many myths and festivals in the Aso region. Behind the shrine is a the lovely Mizuki street lined with gushing fresh water springs and quaint shops.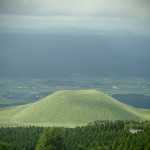 Komezuka – Only 2000 years old one of the youngest, prettiest and greenest volcanos you will ever see. We pass this volcano on the way up to the Central peaks and Kusasenri.
Kusasenri – a vast grassy plain on top of Mount Aso with stunning views of the active volcano. A perfect place for a hike, horseriding or a visit to the Volcano museum.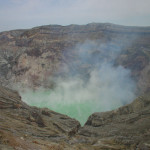 Nakadake – the active volcanic peak, in good conditions we can drive up to the crater's rim, look into the crater mouth and walk around the lunar landscape. Currently Nakadake can not be approached but it can be viewed from Kusasenri.
If you would prefer a less intensive schedule then why not stay the night in either the Aso area or Kurokawa or take the tours as two separate tours. See the Kurokawa Onsen Day Trip and Around Aso Tour for details.
Got a question? Contact Explore Kumamoto now.