The Aso region covers an area of roughly 350 square kilometers, as it's a very rural area public transport is limited. There is so much to see that using public transport you could easily spend several days looking around, however if time is an issue we reccomend either renting a car or taking a private tour.
Getting to and getting around Aso – The best way is to rent a car
Seeing Aso by car is without doubt the best way, it's a huge area and the sights are scattered, also public transport cannot take you easily to many of the more out of the way places.
However one word of warning come prepared – you can only rent a car in Japan if you have an international driving license.  Visitors from France, Germany, Italy, Belgium, Switzerland and Taiwan  also need a translated copy of their national driving license as well as an international driving license.  Details on how to receive a translated license or other license issues can be found on the Japan Automobile Federation website (JAF).
Take a tour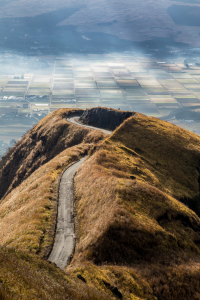 If you are not able to drive yourself Explore Kumamoto can provide you with an English speaking driver/guide for the day. This allows you the flexibility to see what you want, maximise your time and give you the chance to visit places inaccessible by public transport whilst also learning all about the Aso area. Pick up is usually from Higo Ozu Station 35 minutes from Kumamoto City and the closest station to Aso. You can select your itinerary and drop off location, see a typical Aso itinerary here. If you are travelling on to either Kurokawa or Takachiho area a drop off can be scheduled. If you are interested in finding out more, contact us with your tour and travel requirements.
Take a taxi
If you speak some Japanese and know where you want to go then using taxis is an option  (though you may well spend more on taxi fees than booking a private tour for example booking a taxi for the day to travel around Aso would be at least 30,000 Yen.)Taxi ranks can be found at the train stations. As many of the sites are off the beaten track, pre-book a taxi back as you might not be able to wave down a taxi.
Hitchhike
If you are travelling on a budget then you could try hitching. Japan is the safest country in the world, though hitchhikers are not a common site. If you are patient, have time to spare and are prepared for the weather then you will probably find a lift and possibly make some new friends along the way.
Rent an Electric Bicycle
For a relaxing and energising way of travelling around inside the caldera then rent an electric bicycle. The bicycles are available at the following sites:  the Aso Den'en Kukan Eco Museum Office, Miyaji Station, Takamori Station and Minami Aso Visitor Center. Rental fee is 300 Yen for 2 hours, 500 Y up to 4 hours and 800 Y up to 8 hours. (The bicycles are not suitable for mountain climbing and need to be returned to the same rental office.)
Getting to Aso by public transport
Local Train
Local trains into Aso have been affected due to the destruction of the train line at Tateno in the earthquakes of April 2016. Please read the Aso after the earthquakes update to find out about the current public transport situation.
Local trains in the Aso area run every 1-2 hours. Tickets are available at Miyaji, Aso and Tateno stations from either the vending machines or the ticket counter. Not all stations are manned, if the ticket counter is closed, board the train from the rear door of the front carriage and take a numbered ticket. Get off the train at the front door by the driver, give him the numbered ticket and pay the charge. If you have a JR Rail Pass or JR Kyushu Rail Pass just show it to the driver as you get off.
Minami Aso Railway
This train service is suspended since the April earthquakes
The Minami Aso railway is a private railroad offering a very scenic ride from Tateno to Takamori in the south east of the caldera. At Tateno the JR Line and Minami Aso line stations are adjacent. There is an hourly service and fares are payable on departure from the train, take a numbered ticket as you get on when you get off check your ticket number on the list near your driver and place the fare in the collection box.
A special open top sightseeing train runs on weekends and public holidays between March and November. Tickets for this service need purchasing in advance from either Kumamoto Station or Takamori Station by telephone reservation. Seats are limited so early reservation is advised. Contact us if you would like help pre-booking your tickets. A short ride on the Minami Aso Railway  can be scheduled into an Explore Kumamoto Around Aso tour on request.
Minami Aso Railway (Takamori Station) Tel: 0967 62 0058
Local Bus
The Kyushu Sangyo bus runs from Aso Station to Kusasenri and the Asozan Ropeway, there are 7 buses a day, the journey takes 40 minutes and costs 540 Yen for a single fare. There are infrequent local buses around the villages of the northern part of the caldera. Call the Sanko Bus office for details: 0967 34 0211
The system for taking a bus is the same as the local train, take a numbered ticket when you get on and pay the fare as you leave.
In the south region, Minami aso Village offers a special 'Yurutto Bus' which provides leisurely rides across 3 scenic routes through the South Aso area. The buses depart twice daily from Minami Aso Railway Tateno Station and Takamori Station.
Call Sanko Bus Takamori office for details: 0967 62 0515