Aso Print Project for Aso Shrine
These stunning, limited edition, pinhole photographs of Aso by Alex Yates, are being offered in exchange for donations in order to raise funds to help rebuild the Aso shrine. All proceeds from this project will be donated to the Shrine restoration fund. There are four different photographs to choose from, with each print being available in limited quantities of up to 15.
For a donation of 10,000 Yen you will receive 1 limited edition print of one of the Aso scenes below.
*For UK customers the donation is 60 pounds per print plus p&p
Technical Details About the Prints
The prints are LP album sized; 320 x 320mm with a printed area of 300 x 300mm.
As the images are made on film, Alex has selected a printing method that is close to traditional printing. They will be professionally printed in the UK using the C-type process, where the paper is exposed using light, and then developed using traditional photographic techniques. Each print has a matt finish, using Fuji Crystal Archive Matt paper (please note that the prints need to be handled with care to avoid fingerprints).
15 copies of each of the four images will be available, all will be signed and numbered by Alex in pencil on the reverse.
The Prints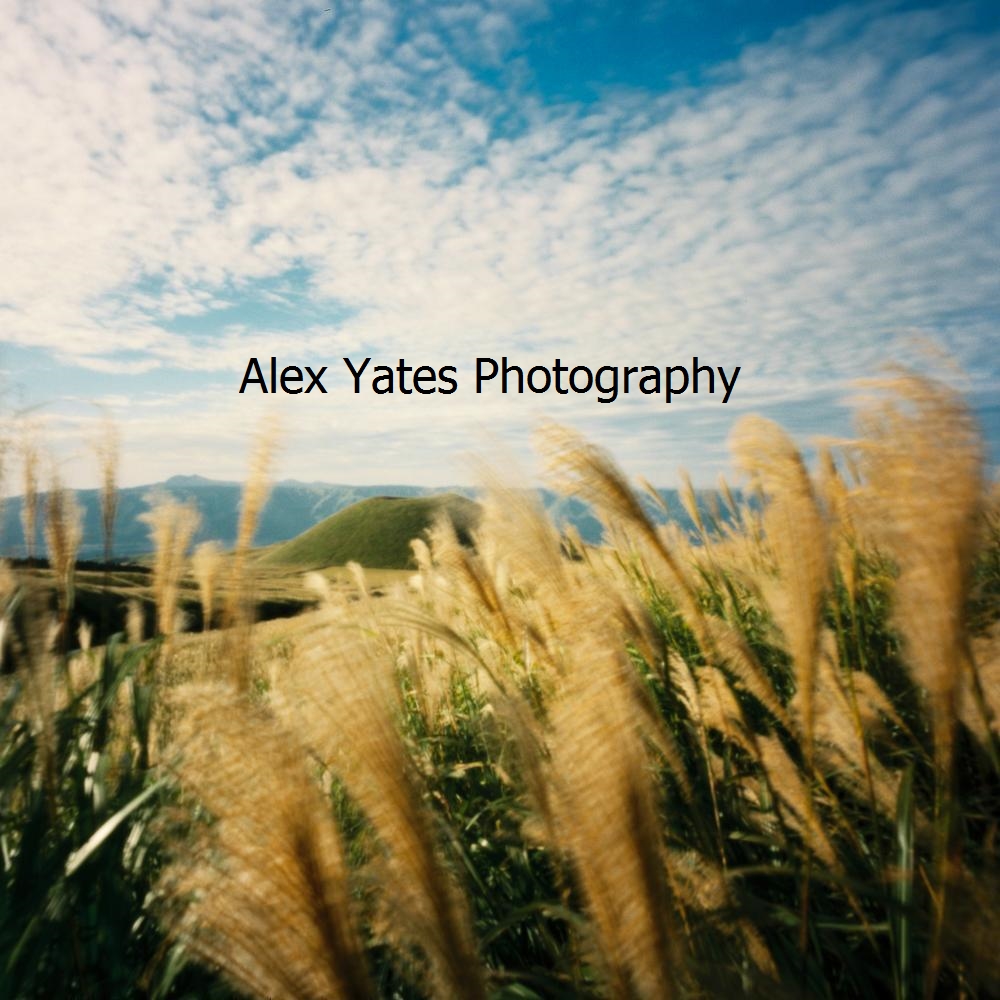 #1 Komezuka – The rice bowl hill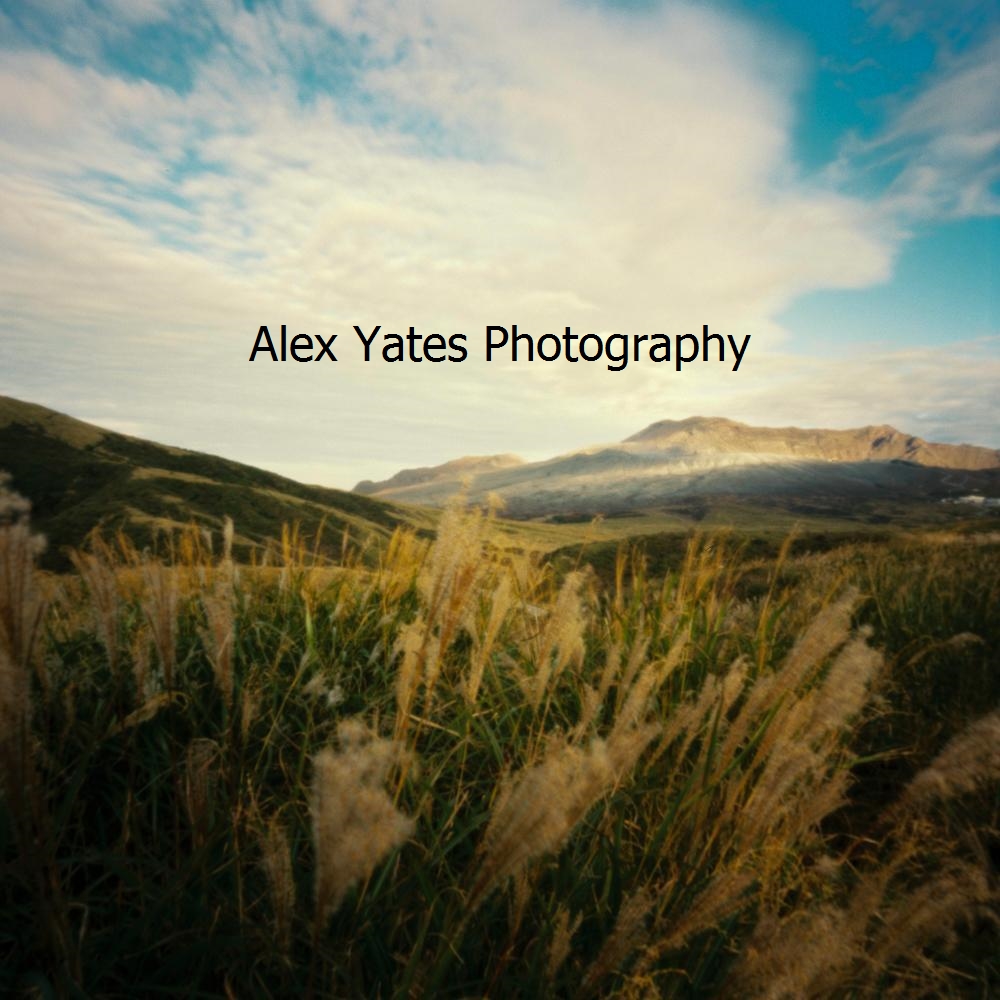 #2 Nakadake Volcano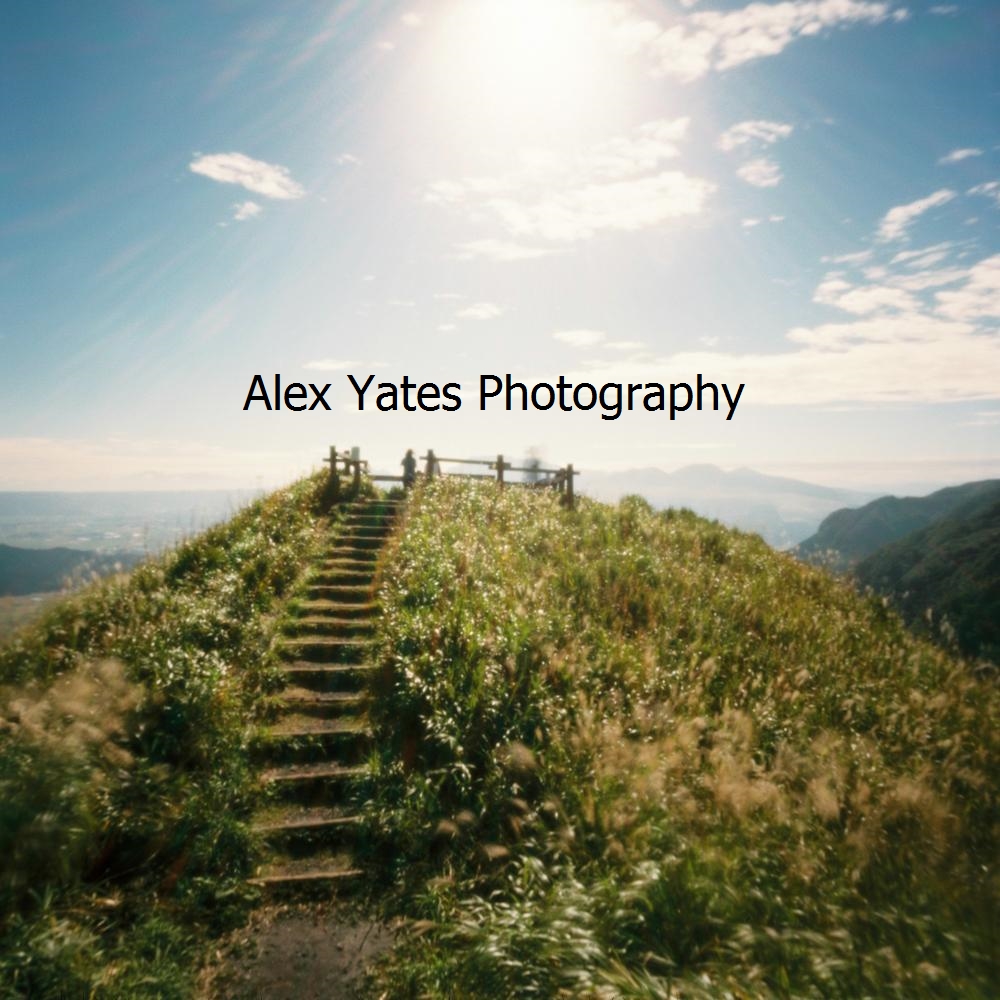 #3 Aso Caldera Viewpoint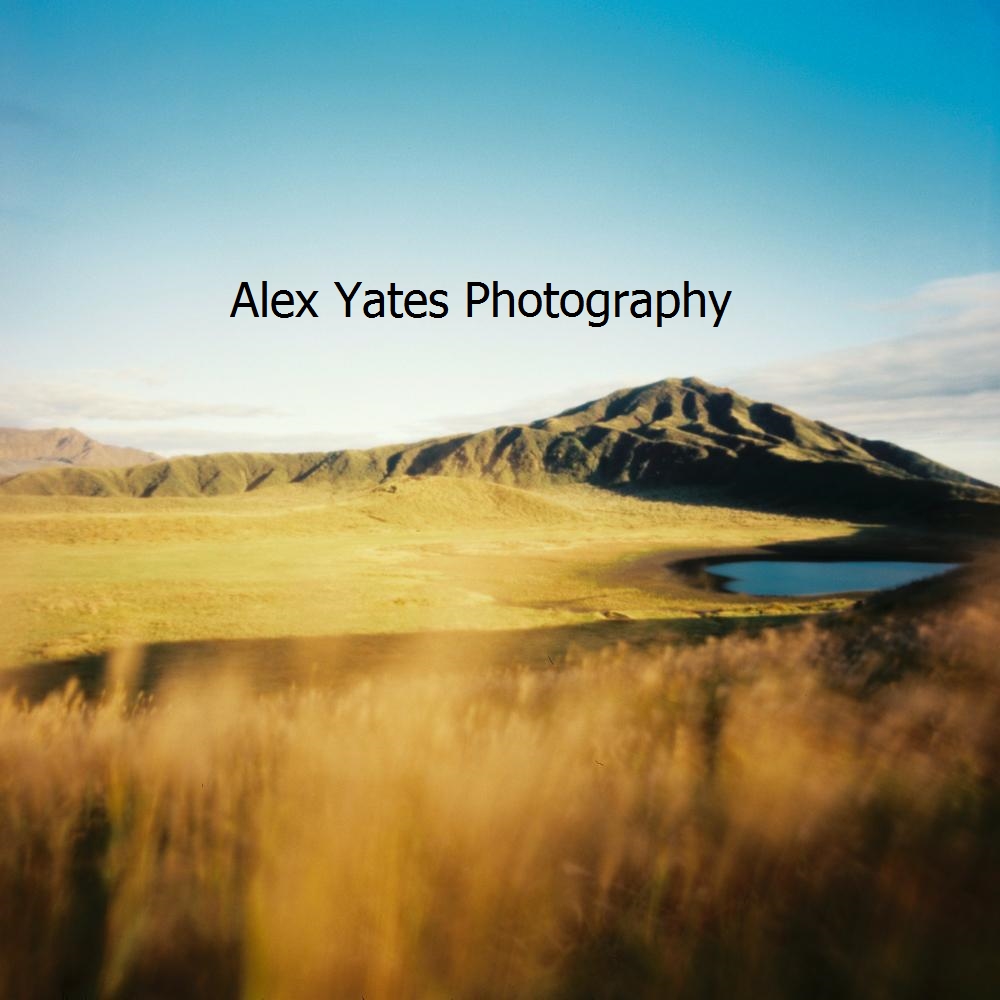 #4 Kusasenri
How to donate and get your print:
There are 2 ways, donate directly to our Just Giving crowdfunding page (remember to leave your email address so that we can contact you)
or mail explorekumamoto@gmail.com
Title your mail 'Aso Print Project'
State your donation amount and which prints you would like.
Give your full name and address, and country of residence
Donation Amount:
10,000 Yen = 1 print of your choice
15,000 Yen = 2 prints of your choice
20,000 Yen = 3 prints of your choice
25,000 Yen = 4 prints of your choice
*In Japan only there is also an option to purchase a frame for your prints at an additional cost
About the Kumamoto Earthquake
In April 2016 Kumamoto was struck by a series of earthquakes including a magnitude 7.0 mainshock which struck at 01:25 in the morning on April 16.
The two main earthquakes killed at least 50 people and injured about 3,000 others in total. Severe damage costing billions of dollars occurred all over Kumamoto with numerous structures collapsing and catching fire. A year later 40,000 people are still living in temporary accommodation. Many landmark structures collapsed and are in need of restoration, the Aso area particularly took a severe blow, the main road into the Aso caldera was destroyed as was the train line and two huge bridges leading into the southern part of Aso. All roads leading up to Mount Aso were badly damaged and the landmark Aso Shrine sadly collapsed.
The Aso Shrine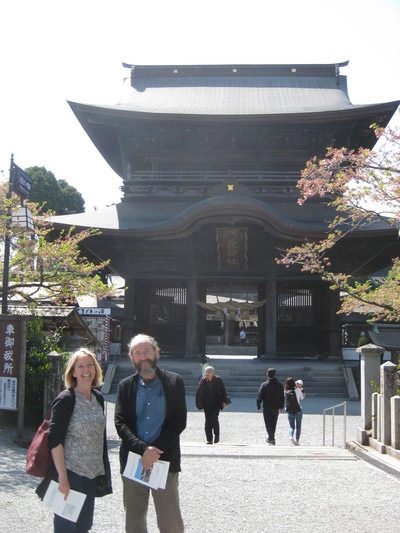 The historic Aso shrine 阿蘇神社 is said to date back to 281 AD to the days of Japan's first emperor. One of the oldest, most prominent shrines in Japan it is still very much a working shrine. It is also the heart and focal point of the Aso community holding a variety of unique festivals throughout the year.
The photo on the left was taken in front of the great Ryomon Gate with a guest on a perfect spring day just 2 days before the earthquakes began. Little did any of us suspect that on the night of the second earthquake the magnificent gate, and the shrine's Hall of Worship would both collapse.
A year later the good news is that work to rebuild the shrine is already underway. However, complete restoration will take up to 10 years and the cost will be high, an estimated 20 billion yen (12 million pounds) the majority of this cost has to be met by the shrine itself which is why fundraising is vital.
The scene after the earthquakes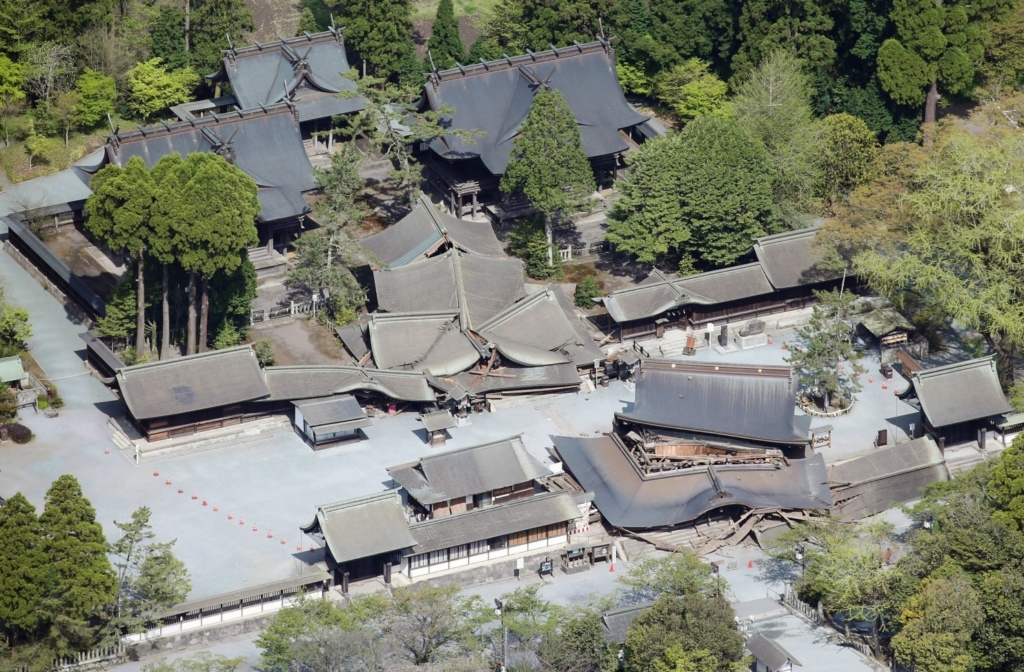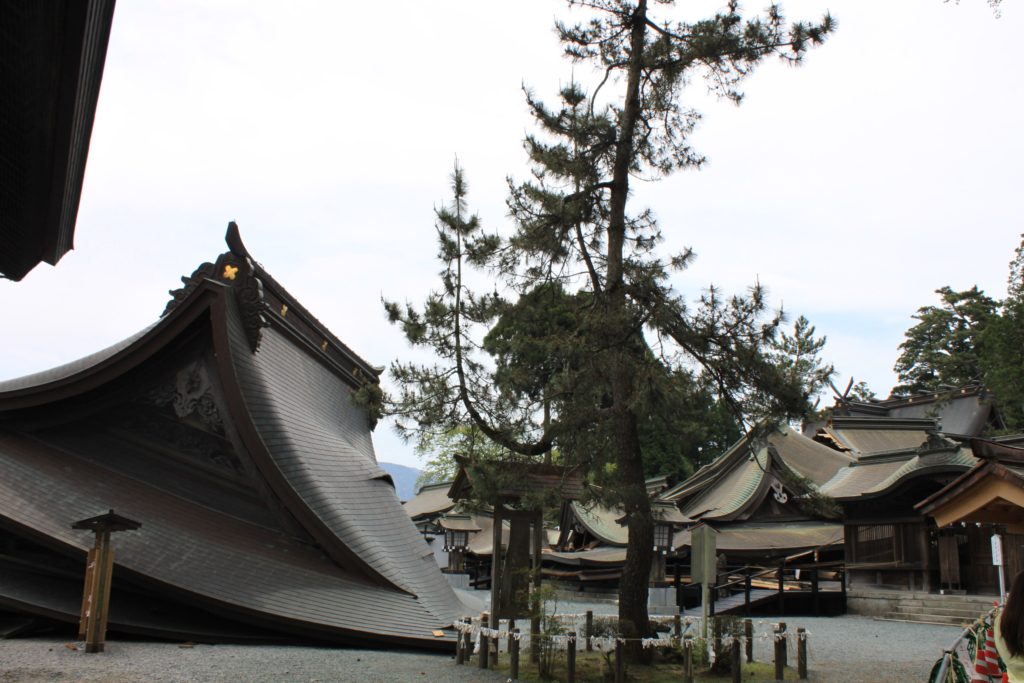 The Photographer: Alex Yates
Alex is a pinhole and lens-based photographer based in the UK, who has been making pinhole photographs for close to ten years. Alex's pinhole photographs have been featured in books, in online galleries and in exhibitions in the UK, Germany and Spain. Alex was placed in the top fifty in the landscape competition 100 Mile Radius. When he finds time, Alex is an occasional co-host of The Pinhole Podcast. You can see more of Alex's photographs on his website.
I was lucky enough to meet Alex in the early autumn of 2016 and show him around the Aso area. Alex decided to make these photographs available for sale to raise money for Aso shrine following his visit.
As Alex says:
"I was nervous about going to Kumamoto and the Aso area following the devastating earthquake. My concern was that our visit would lead to pressure on infrastructure and the residents while the area was recovering. I really did not wish to distract people from recreating their lives. I need not have worried, the people we met were incredibly warm, friendly and welcoming. I was struck by their love of the area, as well as by the beauty of the area itself. When I saw first-hand the damage to Aso Shrine, and when Helen told me the shrine need to find a lot of money to rebuild I knew I had to help. The shrine is the focal point of the community, as well as being an attraction that draws in many tourists. I hope that through the sales of these I can make a small contribution to the recovery of an area that I grew to love in the short time I was there."
What is Pinhole Photography?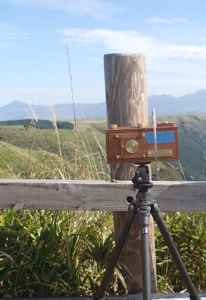 If you are wondering what pinhole photography is, here is Alex's short introduction:
"Pinhole photography is one of the oldest photographic techniques, and it offers photographers both freedom and challenges. The images are made by exposing light through a very small hole (typically around 0.2mm) without a lens. The size of the pinhole means that the effective aperture is very small (between f80 and f250 would be typical) which means that depth of field is effectively infinite and exposure times can be very long (from seconds to hours for a single shot).
When I make a pinhole photograph there is little between me and the image, the lens doesn't interfere because there is no lens. The choices we all make as photographers are amplified in pinhole images. I usually only make pinhole photographs on medium format film. The choice of film has an impact on the resulting image, and the infinite depth of field means that everything in view of the camera becomes vital.
Pinhole images ignore the transient concerns of sharpness and resolution and present images in their most basic form. I hope you enjoy these images for sale here as much as I enjoyed making them."
Alex in action: